It's been a long time since I've made bread but I thought I would put up a picture of my handiwork. Baking bread is hard! I can't produce the same product every time. There are so many factors to take into account, such as the weather, humidity, temperature of the water, my yeast culture, kneading, benchtime, yada, yada, yada.
Simple sourdough bun. Wild yeast, strong flour, water, sugar, salt, and butter to finish.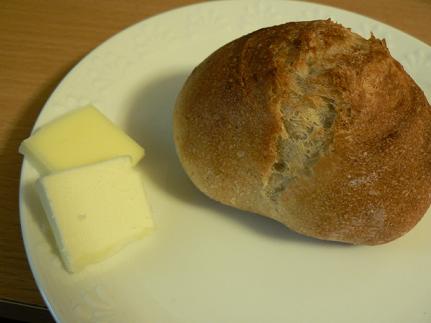 My yeast is very tempermental. Too tempermental. It's a semi-solid type of natural yeast, which I keep in the fridge. N complains it takes up too much vegetable drawer space.
In the beginning it developed and grew very well but then after a couple times it stayed flat and wouldn't get up. One book says that I should keep my kneading of the yeast starter to a minimum. But McGee doesn't even mention that. McGee does mention that the if the starter is divided often, which redistributes the food supply, the better the yeasts will be able to grow. Otherwise, the bacteria that also grows with the yeast will consume nutrients more quickly and produce acid and other growth-inhibiting substances.
Another thing is that sourdoughs should be well salted. Salt limits bacterial protein-digesting enzymes and also helps to tighten the gluten network. Now McGee doesn't say whether to salt the starter or the dough. I'll try it out and tell you how it goes.
In another part of McGee's book, it says at 1.5-2% of the flour weight, salt improves the gluten network and volume of the loaf. So I think I'll start with that.